Dunhinda is a very popular waterfall in Sri Lanka. It has a height of 64 meters. Therefore it is not leading from its height. But, it is a remarkable waterfall when considering the beauty of it. The name Dunhinda derived from the misty appearance in front of the waterfall during the rainy season.
The source of this waterfall is a water stream called as Badulu Oya which starts at Badulla area.
To reach this waterfall it is required to travel in Badulla – Mahiyangana main road. There is a junction known as "Dunhinda Junction" situation about 6 km from Badulla in this road. When travelling form Badulla that place can be easily identified with the sign board with a gate at the right side of the road a footpath starts from that junction towards the waterfall where the people have to walk about 1 km to reach the waterfall.
It is possible to park the vehicles near the main road. There are some sellers all along the foot path who sells herbal drinks and grains. Therefore the footpath is usually not lonely. But at some points it is very narrow and would have to take care of yourself.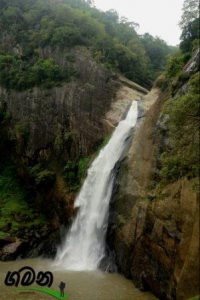 Please be careful from monkeys in the area and always avoid walking with food items in your hands exposing to them.
Before reaching to the main waterfall you can see another waterfall which is known as Punchi Dunhinda. Anyway it is difficult to walk near that waterfall because of you have to go through the forest in mountains.
After completing the distance of 1 km you can see the beauty of the Dunhinda waterfall. Please do not attempt to bath in the water stream since it is very much dangerous.